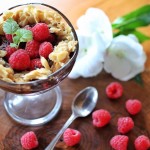 Banana Chocolate Pudding with Candied Almonds
Super delicious and easy to make banana pudding - vegan, sugar-free and 100% paleo. All you need are bananas, an avocado, unsweetened cocoa powder and some almond milk. All other ingredients are more or less optional and can be varied up to your liking!
Instructions
Squish two ripe bananas in a vessel until they have a really smooth texture.
Add all other ingredients and mix until everything is creamy. If the texture is too firm, continue to add some almond milk.
Put the sliced almonds in a pan and crystallize with some maple syrup.
Chill the pudding in a fridge until it gets served and garnish with the candied almonds.
Allergens
Allergens