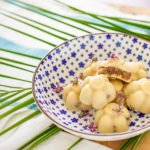 Coconut- & Almond Sweets filled with Dates
Instructions
Soak dates in hot water for 10-15 minutes.
While the dates are soaking, mix the melted coconut oil, coconut butter, almond butter (or tahini) and maple syrup together.
Add 1 tsp of the mixture into ice cube molds of your choice and place in the freezer to harden. They should take about 5-10 minutes to harden completely.
Blend the dates with the sea salt until they are completely smooth and creamy.
Divide the date mixture by spoonfuls into the ice cube molds and pour the remaining coconut / almond mixture over the top.
Place the ice cube mold back in the freezer until hardened. It takes about 20-30 minutes.
Store in the freezer.