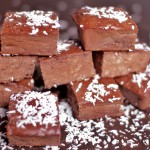 Paleo Brownies
These Paleo Brownies are quick and easy to make, moist and consist of just 3 ingredients. They are also vegan and a perfect, healthy snack for in between meals, to go or at work. And of course they are also gluten-, sugar- and dairy-free! The nutritional value and sweetness level can easily be adjusted by adding protein powder or sweetener like maple syrup.
Instructions
Preheat oven to 356F (top and bottom heat) and prepare a brownie loaf pan or baking tray lined with parchment paper.
Melt the almond butter in a pot and mash bananas in a bowl with a fork or potato masher until you have a nicely homogenous mix.
Mix mashed bananas, almond butter and cocoa powder using a blender and feel free to add some protein powder or maple syrup to jazz up the nutritional value and sweetness level of your brownies.
Put brownie mixture into your prepared loaf pan or on a paper-lined baking tray and bake for about 20 minutes.
Remove brownie mix from the oven and cut it into pieces once it's cooled down completely.
Tip: Storing them in the fridge keeps the brownies fresh and tasty.