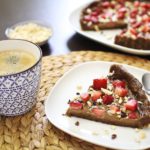 No-bake Avocado Tart with Strawberries
I just love cake! I really do! But you know what I love even more than cake: raw cake! Cake, that I don't have to bake at all. And if we are talking about raw cake, we have to talk about one of my favourites: Raw Avocado Tart with Strawberries, Cocoa Nibs and Salted Cashews - A raw-vegan cake with the perfect combination of sweet, fruity and salty, consisting of natural and healthy ingredients!
The perfect bring along, ready in 25-30 minutes (+2h in the fridge) and like all other recipes obviously free of gluten, dairy and refined sugar! Enjoy! 😉
Instructions
Cut dates and apricots into pieces. Blend dates, apricots, melted coconut oil and ground hazelnuts in a food processor until you have a nice homogenous mix.
Put your mix into a tart or tartlet tin and press evenly.
For the filling, half your avocados, get rid of the seed and remove the flesh with a spoon. Add lemon juice to the avocado flesh and mix it with cashew butter, cocoa powder and maple syrup.
Pour your avocado-chocolate-mix onto the tart ground and refrigerate the tart for at least 2 hours.
Meanwhile wash strawberries, remove the stalk and cut them into desired size. Break cashews into crumbles and mix them with sea salt.
Take tart / tartlets out of the fridge, remove from the tin and garnish with strawberries and salted cashews.
Tip: Cocoa nibs or pistachios also make for an amazing topping! You should definitely give these a try as well! 😉