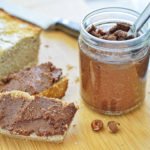 Paleo Nutella
I gotta say, I am not really a Nutella-person. Sorry to all the hardcore-Nutella-fans out there, but the "original" is just far too sweet for my taste! Maybe that's just me though?
Well, it doesn't change the fact, that I often crave for some kind of chocolate-nut-cream in the morning. And that's exactly the moment when I am super happy about having my self made sugar- and dairy-free Paleo Nutella - a clean and healthy alternative to Nutella!
It's super quick and easy to make and consists purely of natural, wholesome real-food ingredients!
Instructions
Roast the hazelnuts in a pan for a few minutes and then use a food processor to blend them until they form a buttery consistency.
Add 1/4 cup of coconut milk, blend again. Add the other ingredients and blend again until well incorporated.
If the mixture isn't as creamy and smooth as you like, just add a bit more coconut milk and blend again.
Enjoy! 😉
Tip: Combining the Paleo Nutella with the Paleo Coconut-Almond-Bread is a super delicious combination that you should definitely give a try!
Allergens
Allergens