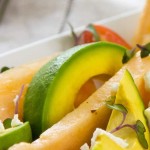 Avocado Melon Salad with Lemon Vinaigrette
This recipe is an amazing and refreshing vitamin-bomb for these hot summer days where you just don't really feel like eating a lot. It's also a perfect side-dish for a bbq or a buffet.
Instructions
Cut the melon in half, remove the seeds and the peel and cut the melon into slices. Cut the avocado in half, remove the seed, cut the flesh into slices and drizzle some fresh lemon juice over it. Wash the tomatoes and cut them halve long.
Pluck some cress to pieces. Put 1/3 of it to the side and mix the rest with lemon juice, orange juice, olive oil salt and cayenne pepper.
Dish the avocado-melon-salad on a plate, drizzle the vinaigrette over it and garnish with the left over cress.
Tip: If you want to give it that little bit of extra flavor, add some romaine salad and dates! You won't regret it! 😉