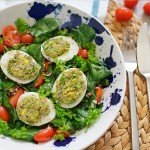 Stuffed Eggs on Spinach
This is one of these recipes that doesn't look like a lot, but still tastes fantastic. The fried egg halves with parsley and mushroom are super delicious and go really really well with the seasoned spinach and tomatoes!
By the way: If you don't have the time to fry the spinach and tomatoes, try this recipe as a salad. Easy, fast and still delicious! 😉
Instructions
Hard-boil your eggs for like 7-8 min., hold them under cold running water, peel the shell off and halve them.
Wash and dry the spinach and the parsley. Peel the garlic and clean the mushrooms. Chop the mushrooms finely and do the same with the garlic and the parsley.
Remove the egg yolk and mix it with the chopped mushrooms and parsley. Once you have done that, put the mushroom-parsley-yolk back in the egg halves.
Drizzle some olive oil in a pan, heat it on medium-heat and put the egg halves in it. (The yolk is facing up!) After 2-3 minutes flip the egg halves over and fry again for 2-3 minutes.
Remove the eggs from the pan and use it to fry the tomatoes, spinach and garlic for a few moments. Once the spinach is ready, season everything with some nutmeg, salt and pepper.
Serve the eggs on the spinach-tomato-bed, garnish it with some fresh parsley and enjoy!
Tip: Another recipe that goes super well with sweet potatoes!
Allergens
Allergens