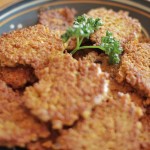 Sweet Potatoe Hash Browns
This recipe is for all the hash brown lovers out there: If you don't want to miss out on them in your paleo-diet, you can easily make sweet potato hash browns as an alternative.
I love them as a hearty meal with sweet potato, coconut oil, nutmeg, parsley and salt and pepper, or as a sweeter version with the addition of carrots, almond flour and cinnamon. So yummy! ?
Instructions
Wash and peel the sweet potatoes and roughly rasp them into a large bowl with a kitchen grater.
Knead the grated sweet potatoes thoroughly and press them against the side of the bowl to get rid of the unnecessary water.
Add an egg or some almond milk (for the vegan version), mix well and season with salt, pepper and nutmeg.
Heat some coconut oil in a pan and add about 2 tablespoons of sweet-potatoe-mix for one hash brown. Once in the pan, slightly press the mix flat.
Bake at medium heat for 5-6 minutes until the outer parts of the hash browns get a bit of darker brown color. Flip them and bake for another 5 minutes.
Place the finished hash browns on some parchment paper and keep them warm until served.
Serve on a plate garnished with chervil.
Hint: If you have somewhat of a sweet tooth, try adding finely rasped carrots, a bit of cinnamon and almond flour before baking! Soooo good!
Allergens