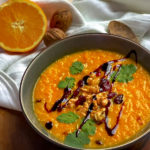 Orange Carrot Soup
Wether you use cranberries, raisins, coriander or parsley, the Orange Carrot Soup is an absolute classic amongst the paleo recipes. For good reason! It's quickly cooked, always refreshing and you can easily spice it up to your likings.
For the basic recipe all you need is: Some oranges, carrots, an onion, 1-2 cloves of garlic a bit of coconut oil or ghee and same salt and pepper. Everything else (raisins, cranberries, coriander, parsley, chili, ginger, curry, etc.) is completely up to you and your mouth-watering fantasies! 😉
Instructions
Wash the carrots, peel them and cut them finely. Peel the onion and garlic cloves and cut them too.
Wash the oranges, dry them and grate half a teaspoon peel of it. Half them and squeeze the juice out.
Heat up some ghee or coconut oil and fry the onions and garlic until its translucent. Add the carrots and orange peel and season with coriander. Add fresh orange juice and vegetable stock until the carrots are slightly covered.
Let everything simmer for about 10 minutes and then blend it with a blender.
Add the remaining vegetable stock, raisins or cranberries, season with salt, pepper and chilies and boil it up again before serving it. Garnish with coriander or parsley - enjoy!