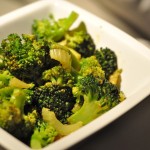 Broccoli Fennel Curry Salad
I know that broccoli isn't for anyone. And I guess it's the same for fennel. But you have to believe me, when I say, that you GOT to try this Broccolo-Fennel-Salad with curry, coconut milk and pumpkin seeds! 🙂
And if you are really not into fennel or you are making this recipe for the second or third time, you could try carrots instead of fennel. They go really well with with the sweety nut sensation of the curry-sauce! Hint: Same goes with celery! - Just give it a try!
Instructions
Break the broccoli into pieces, put the broccoli florets into a pot, add some salt and water and heat it up.
Peel the fennel, wash it and cut it into rough slices. Put the fennel slices into a large salad bowl.
Make sure the broccoli doesn't get too tinder, we want it to be still firm. Pour some cold water over it to chill it, let the broccoli drain for a bit and then add it to the fennel in the bowl.
Mix all ingredients for the curry-sauce, add it to the salad bowl and mix it up.
Allow the salad to steep for atleast 10 min. in the fridge before serving. Garnish with pumpkin seeds and enjoy!