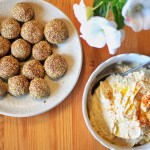 Falafel with Hummus
If you think about typical israeli food, chances are high that "Shakshuka" is one of the first things that comes to mind. Everyone is talking about the poached eggs in tomato sauce right now. But hey, let's not forget about one of the absolute classics from our friends in the Middle East: Falafel with hummus!
As we all know, Falafel with hummus is super delicious and relatively easy to make. But did you know that it's also pretty easy to make them 100% paleo compliant? I am talking sugar-free, gluten-free and dairy-free Falafel with hummus! Yummy!! 😉
Instructions
Falafel
Pre-heat the oven to 220° C (top and bottom heat).
Mix all ingredients (except the sesame) with a blender until everything is smoothly mixed.
Form small balls, roll them in sesame and put them on a paper-lined baking tray.
Put the baking tray in the middle ray of the oven and let them bake for about 20 minutes until the balls are slightly brown.
Hummus
Break the cauliflower into small pieces and let them simmer for about 8-10 minutes in slightly cooking water.
Mix the cooked cauliflower together with the other ingredients in a blender until you have a creamy mixture. If the mix is too firm, just add some water to get the right consistency.
To garnish the hummus, dribble some olive oil over it and add a bit of paprika.
Allergens
Allergens