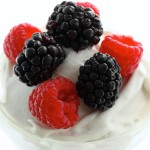 Self made Paleo Coconut Yogurt
Even though coconut yogurt isn't something special anymore and therefore also pretty easy to get nowadays, most of the time it's pretty expensive and rarely free of dairy and sugar.
Luckily, it's super easy to make: All you need is some coconut milk, probiotics or ferment, agar-agar and maple syrup (or honey).
Instructions
Pour a cup of coconut milk into a vessel, add the probiotics and stir well.
Heat the rest of the coconut milk in a pot on low heat, add the maple syrup (or honey) and agar-agar. Mix until everything is drained and remove the pot from the stove.
Pour both parts of coconut milk together and stir well.
Divide the finished coconut milk in glass jars, close the lid but don't seal it!
Place the coconut milk jars in the oven, close the door and switch on the oven light.
Important: Only turn on the oven light, nothing else! (The heat from the oven light is enough for the coconut milk to ferment! Unless you have LEDs of course!)
After 12 hours, remove the coconut milk jars from the oven, stir well and put them in the fridge.
Check on it once in a while to see if the yogurt has reached the desired consistency.
Enjoy with some fresh berries or granola!