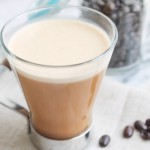 Bulletproof Coffee
Bulletproof coffee is said to enhance performance and concentration ability as well as to stimulate fat burning.
And even tho there is a big controversy about the trendy "paleo coffee" right now, I gotta say I love it. Why? Because it tastes great, saturates and gives me plenty of energy for the day! Bulletproof coffee can easily replace a whole breakfast and helps you reduce the intake of unnecessary carbs in the morning.
If you are more into cold beverages like frappuccino, the Paleo Mocha Frappuccino could be just right for you!
Instructions
Brew some coffee. The amount and intensity is completely up to your liking.
Add the coconut oil and ghee (or plant milk for the vegan version) and jazz it up a bit with some maple syrup and/or cinnamon.
Blend everything until you have a nice, homogeneous fluid without a visible fat layer.
Enjoy! 😉
Hint: If you feel like you are in a desperate need of energy, swap the coconut oil for MCT-oil. MCT-oil supplies your body with lots of energy and is supposed to be six times stronger than regular coconut oil. It goes directly in your cells and gets digested in a different way to safely transform into ketones.