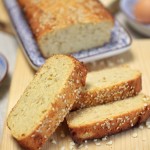 Paleo Coconut Almond Bread
Even though there are already some ready-to-bake paleo bread baking mixes available online, I always feel like they are way overpriced. I honestly can't say anything about the taste tho, just because I don't buy them. But I guess even If they would taste good, I'd prefer making the bread myself, just to be 100% sure about whats inside.
So while I am still working on a vegan paleo version of this coco-almond-bread, you can already enjoy this sugar-, dairy- and gluten-free version. All you need: Eggs, coconut oil, coconut or almond flour, honey, baking powder and some salt. And if you want your bread to be a bit more crunchy, just add some chopped nuts, chia or sesame.
Instructions
Preheat the oven to 340F (top / bottom heat).
If you want to use flax eggs instead of eggs, mix 6 tbsp of ground flax seeed with 12 tbsp of water and let them soak for at least 15 minutes.
Mix eggs (or flax eggs), coconut oil and honey. Add coconut flour, chopped almonds, baking soda and a pinch of salt. Mix well until you have a nice homogenous dough. Set aside for 5 minutes.
Grease your baking dish with some coconut oil. Add the dough, drizzle with some sesame seeds and bake for 35-40 minutes until the top is getting that gold-brown color.
Remove from the oven, let your Coconut-Almond-Bread cool down and enjoy with some spread.
Allergens