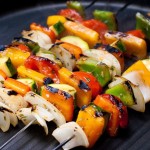 Grilled Vegetable Skewers
Whether you have an oven grill, an electric grill or an charcoal barbecue grill at hand, grilled vegetable skewers are always the right choice and make for a wonderful side dish or main dish.
Instructions
Wash sweet peppers and zucchini and cut them into thick slices. Clean the mushrooms and half them depending on size. Wash the tomatoes. Peel and half the onions.
Pin the cleaned and sized vegetables on a skewer.
Place the skewers on a oven grid lined with cooking foil, drizzle with garlic oil and season with salt and pepper.
Grill for 10 minutes, flip them around and grill for another 10-15 minutes. Meanwhile wash, dry and cut the chives.
Garnish the skewers with chives and serve.