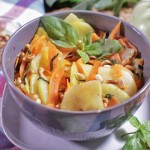 Kohlrabi Carrot Vegetables
Kohlrabi Carrot Vegetables are quite rightly a popular side dish for hefty meals. But if you combine them with basil and pine nuts, you get something completely new. A dish that could very well be a mediterranean main dish! - But maybe it's just me, tell me what you think! 😉
Instructions
Clean and peel kohlrabi and carrots. Quarter the kohlrabi and cut it into thin slices. Cut carrots diagonally into slices. Peel the garlic and chop it finely.
Roast pine nuts without oil in a pan until they are gold-brown. Wash basil, shake dry, pluck the leaves and cut them into slices. (Set a few leaves aside for decoration.)
Heat olive oil in a pan and fry garlic, carrots and kohlrabi at low heat for 2-3 minutes. Deglaze with lemon juice and vegetable stock.
Cook for 4-5 more minutes and season with salt and pepper when finished.
Mix everything with pine nuts and basil slices, garnish with basil leaves and serve.