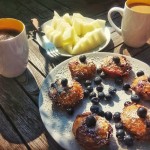 Banana-Blueberry-Muffins
If you are into quick and easy to make paleo muffins, this recipe is for you: Banana-Blueberry-Muffins! They are full of healthy ingredients (no sugar, no dairy, no gluten), super easy to make and taste fantastic. So what are you waiting for, go give em a try! 😉
Instructions
Squish bananas in a bowl with a fork or potato masher.
Add the eggs and mix well.
Add almonds, vanilla, honey and baking soda. Mix thoroughly.
Grease the muffin pan with some coconut oil or ghee.
Pour the dough into the muffin pan and add 4 blueberries each.
Bake at 356F (circulating air) for about 15 minutes.
Garnish with blueberries and desiccated coconut, serve and enjoy!
Allergens