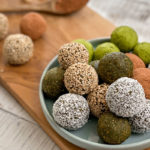 Vegan Matcha Energy Balls
I got to be honest: I'm addicted to matcha! I just love it!
I love the taste, I love the energy it provides and the enhanced concentration it gives me. But what I love the most about matcha, is the fact, that it does NOT have the typical downs of coffee or caffeine.
These little energy balls are the perfect way for me to get my precious matcha to go! And they are also a great, healthy alternative to classic sweets.
Instructions
Put cashews, hazelnuts and almonds into a blender and mix thoroughly. (If you don't have whole nuts at hand, you can also use ground nuts.)
Add dates, almond milk, matcha, chia seeds and lemon juice and mix again until you have a sticky mixture.
Place the mixture in the refrigerator for at least 1 hour.
Once the mixture is chilled and firm, form small balls and roll them (or just a few) in matcha powder.
Enjoy! 😉
Tipp: The energy balls can be kept fresh in the refrigerator for up to two weeks.
Allergens
Allergens