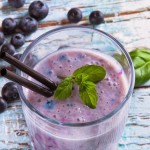 Berry-Coconut-Smoothie
In the paleo diet, coconut milk is not only used for cooking or baking, it also makes for a wonderful creamy dairy-alternative for smoothies! So it comes with no surprise, that coconut milk or alternatively coconut yogurt is one of the main ingredients for this smoothie.
If you combine blueberries and red currants with some coconut yogurt/coconut milk, lemon juice, honey - or maple syrup for the vegan version, fresh mint and a bit of sesame and mix everything very well, you'll get a super dreamy and refreshing Berry-Coconut-Smoothie! You won't be disappointed, believe me! 🙂
Instructions
Wash red currants, let them drain for a bit and remove the berries from the branch using a fork.
Do the same with the blueberries and put them in a mixing bowl. (Keep some of them for decoration). Add the red currants to the mixing bowl.
Add lemon juice to the mixing bowl and blend everything for a few seconds.
Add coconut yogurt (or coconut milk), honey (or maple syrup) and optionally mint leaves (keep some for decoration) and blend well until you have a nice creamy smoothie.
Pour smoothie into glasses, drizzle with sesame seeds and garnish with mint leaves and blueberries.
Tip: If you are more into a fruity frappucino than a smoothie, add frozen berries instead!
Allergens
Allergens