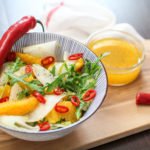 Orange-Kohlrabi-Carpaccio
Kohlrabi, also known as turnip cabbage, can be eaten raw or cooked. But regardless of how you eat it, kohlrabi can offer a myriad of health benefits and is one of the few foods that is both nutritious and filling.
And even tho it is especially delicate in spring, this Orange-Kohlrabi-Carpaccio is always the right choice! It works as a fruity side dish, delicious starter or as a healthy snack for in between!
Ingredients
Instructions
Wash, peel and cut the kohlrabi into thin slices and drizzle with 1 tsp salt. Wash arugula, shake dry and remove stalks.
Wash your lemon and one orange with hot water, dry them and peel about 1 tbsp of thin strips off of them. Peel oranges and completely remove the white part of the skin. Cut the filets out of the separating skins and collect the juice. Squeeze juice out of the lemon and the remaining parts of the oranges and mix it with olive oil.
Peel garlic and chop finely. Wash chili, cut into rings and remove the seeds (if you don't want to use them). Add garlic and chili rings to your citrus vinaigrette and season with honey / maple syrup, salt and pepper.
Wash the salted kohlrabi slices, dry them with a paper towel and serve with orange filets and arugula.
Drizzle with citrus vinaigrette, garnish with strips of orange and lime and add some mint leaves for decoration.